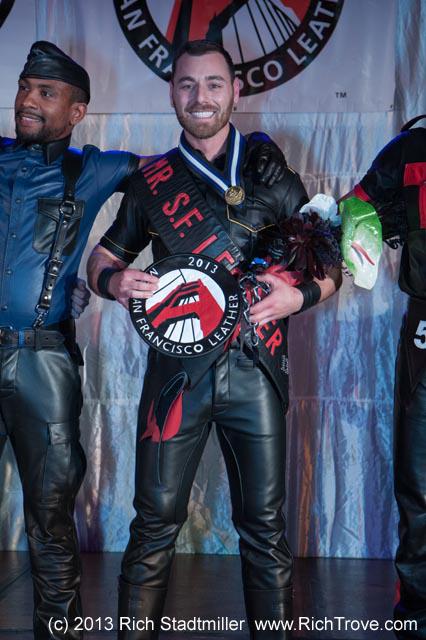 I was asked to run for Mr. Powerhouse Leather after my stint as a Bare Chest Calendar man, but the truth was I was burnt out. After fulfilling a year of obligations for the calendar I couldn't think of doing it again for another title. I decided to take a break for a year and think about if I really wanted it. The truth was, I did. I realized that as I grew into myself, I grew into a Leatherman. Leather had taken on a whole new life for me, not only with sex but with community as well. I felt at home at the Powerhouse and thought of nothing better or sexier than holding the title of Mr. Powerhouse Leather.
The following year I ran and won the Mr. Powerhouse Leather contest. The winner of that contest was automatically put in the Mr. San Francisco Leather contest with other local titleholders. It was the following week after the Powerhouse contest and I was overwhelmed. What would I do as Mr. San Francisco Leather? All I really wanted was to act like "king" of the Powerhouse and now I was in a whole other league. The truth is, I'm an extremely competitive person. I realized that I could still have my fun but also have the opportunity to reach out to a whole lot more people. I won the title of Mr. San Francisco Leather 2013.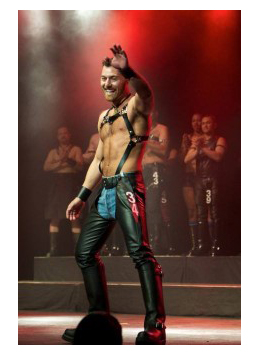 The winner of the Mr. San Francisco Leather title is expected to run for International Mr. Leather. It's actually a great honor, as any former IML competitor will tell you. If the Mr. San Francisco Leather contest was a 10, IML is a 500. The people, the format, the expectation is all larger and very daunting. Preparing for IML is like preparing for the SAT's. You're not sure exactly what will be asked of you, so you prepare for everything.
For the competition there is an interview with the judges, on-stage pop question, physique, and speech portion if you are selected in the top 20. There were 51 of us from around the globe, so I was honored to be selected in the top 20 and deliver my speech. I talked about my Leather journey and how the young guy from Santa Maria, CA is barely recognizable now. Leather had given me the opportunity to change into someone I really wanted to be. Most importantly it showed me examples of men I wanted to be like. It freed me emotionally and sexually.
Being selected as International Mr. Leather 2013 was the greatest experience of my life. It's extremely gratifying and humbling being chosen out a group of people that you respect so much. I had been to IML previously and to think that a few years later I would be on that stage receiving that gold medal was very surreal and very great.
---